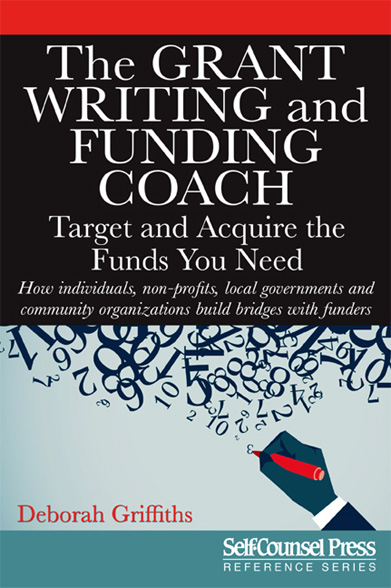 The Grant Writing and Funding Coach
This short and practical book provides steps to make grant applications an easy part of your annual work flow.
The Grant Writing and Funding Coach, helps you target and acquire the funds you need.
This reference primer for community projects provides doable steps to move ahead.
With sample summaries, budgets and planning helpers,

The Grant Writing and Funding Coach

leads you through an enjoyable experience of building bridges with funders.
In the News
Amazon.ca Review ***** "I learned more by page 10 than in any other book on this subject."
"This is an exceptionally good book on the topic and delivers a ton of no-fluff, practical and actionable information in just 100 pages.
Topics in the Table of Contents include: preparing a budget, summarizing your project, organizing your proposal, fitting your idea to the funding, crowdfunding, finding & connecting with funders, the application process, reporting results, and saying thank you; plus useful checklists and samples in the appendices. Many thanks to the author for sharing her expertise!"
BC Bookworld
The 2017 summer and 2017-2018 Winter editions of BC Bookworld have listed the Grant Writing and Funding Coach as one of British Columbia Publishers' top sellers.
Shaun Polczer–Chestermere Anchor City News, Alberta June 8, 2017
"It's just a short little tome—about 120 pages—and meant to be that way. But it's packed with invaluable advice for any community group seeking grants."
Debra Martin, Editor, Comox Valley Record, June 15, 2017
"Griffiths has tried to demystify and de-jargonize the grant writing process.
"If you are seeking a highly technical, academic-speak book about grants and funding, this isn't it This is, pure, business-like, pleasure-reading about idea advancement backed with solid experience and information from people in the business of applying for and giving funds in the form of grants," Griffiths writes.
And Griffiths puts a lot of the "F-word" in the book – "Fun".
The Grant Seeker's Helper: The Little Book on Grants for Big Community Dreams
by Deborah Griffiths
Funders want to participate in making your community's dreams come true, and there are straightforward ways to give them the opportunity to say yes. I created The Grant Seeker's Helper, a simple step-by-step desk helper for non-profits and communities with small budgets and big dreams because I've had the opportunity to work on hundreds of community grants and the fortune to review great applications for clients. In this book, I provide practical information for people and organizations with big needs, tight budgets and schedules and small staff numbers. If you're looking for a more expanded version of this desk primer please see the Grant Writing and Funding Coach published with Self Counsel Press in April 2017.
Step into Wilderness: A Pictorial History of Outdoor Exploration in and around the Comox Valley
by Deborah Griffiths, Christine Dickinson, Judy Hagen, Catherine Siba
The spectacular landscapes in and surrounding the Comox Valley on Vancouver Island have long shaped the lives of the valley's diverse inhabitants. From expansive shorelines to snowy mountain peaks, the region contains a wide variety of attractions to lure people over their thresholds for sustenance, recreation and survival, including such landmarks as Forbidden Plateau, Paradise Meadows, Comox Glacier, Mt. Washington and Miracle Beach.
Step into Wilderness features never-before-seen photos from the Courtenay and District Museum collection, showcasing the growing community's varied interactions with the wilderness they inhabit, from early hiking and skiing expeditions to encounters with wildlife, afternoon tea in the wilderness, beach races and early outdoor activity clubs. The collection also explores the ways in which inhabitants have altered the landscape, including K'omoks Bay fish traps and stump blasting to clear fields. These unique and arresting photos are complemented by equally engaging accounts of individuals surviving and thriving in the midst of natural beauty and great devastation, including survivors of the great fire of 1922 and pioneer skiers on Forbidden Plateau during the Great Depression.
Watershed Moments-A Pictorial History of Courtenay and District
by Christine Dickinson, Deborah Griffiths, Judy Hagen, Catherine Siba
"While Watershed Moments: A Pictorial History of Courtenay and District's main focus is on the Comox Valley it also gives readers a glimpse of important events in history that helped shaped the fabric of Vancouver Island." Nanaimo Bulletin. This pictorial history, with all proceeds going to the Courtenay and District Museum was published by Harbour Publishing  and was a third prize finalist in the British Columbia Historical Federation Lieutenant Governor's Historic Writing Award 2016. Production was a team effort with authors Dickinson, Griffiths, Hagen and Siba. Lithographer, Ernst Vegt scanned and repaired over 150 images ranging from glass plate negatives to tintypes, snapshots and hand-tinted images. Design by Li Eng-Lodge, editing Audrey McClellan.
Heather's Amazing Discovery
by Deborah Griffiths
Illustrations by Robert Lundquist, Leah Pipe
Photography by Paul Bailey
A British Columbia fossil favorite for children, Heather's Amazing Discovery came out in 1992, was a finalist in the 1996 Vancouver Children's Literature Roundtable and still fascinates young people with a true story about a young girl and her father's discovery of the first eighty million year old reptile discovered on Canada's west coast. Leah Pipe and Rob Lundquist added beautiful images and photographer, Paul Bailey helped recreate this discovery on the Puntledge River. Still popular, all proceeds from the book go to the Courtenay and District Museum and Palaeontology Centre.